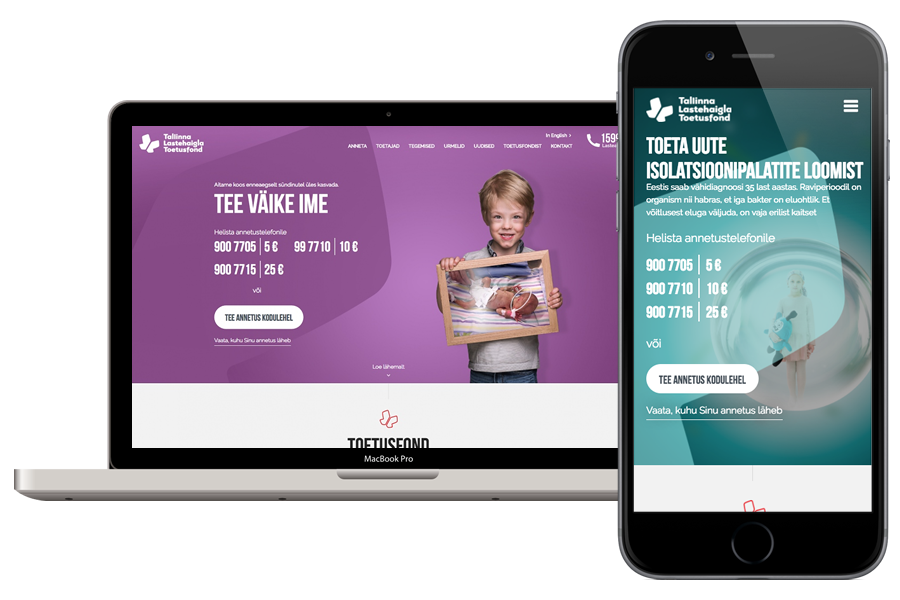 The Tallinn Children's Hospital is the biggest in Estonia, treating nearly 12,000 kids annually, 400 of them in intensive care.
While the majority of their treatment cost is covered by the national Health Insurance Fund, it does not fully cover the expensive medication and equipment needed, nor does it enable renovating the hospital or providing continuous training for the staff. The Tallinn Children's Hospital Foundation was founded in 1998 with the goal to alleviate these problems and help the hospital provide the best care possible.
We completely revamped the foundation's website. In addition to better presenting their work and achievements, the other big goal was to build a unified and simple interface for all forms of donation - whether a one-time donation via wire transfer or PayPal, or setting up a recurring act of goodwill.
Check out the site: www.toetusfond.ee
Services provided: website
Technologies used: Voog content management system, PHP, bank links, Paypal integration
Spark your interest?
We will gladly set up a meeting or a phone call to discuss how to make the internet work for your business.
The easiest way to contact us is by filling out the form below. However, all other means of communications are also listed - just pick the one most convenient for you.
Codelab Solutions OÜ
Reg no: 11742288
VAT ID: EE101327187
Indrek Siitan
tailor-made systems, mobile apps
Kristiina Laaniste
websites, e-commerce