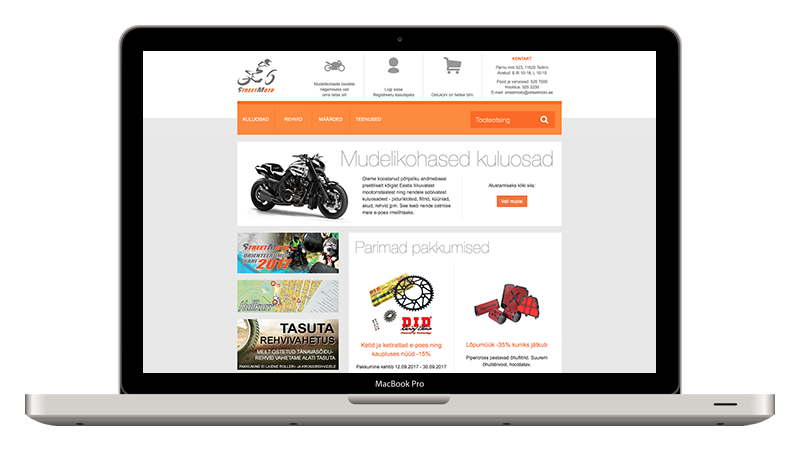 For years, StreetMoto has been the local market leader in motorcycle wear parts, as well as a highly-regarded service shop and a training center during winter months.
The goal of the website revamp was to make online wear part purchase as fast and failproof as possible. To achieve this, we developed functionality to create a catalog of over 1,000 popular motorcycle models in Estonia and large selection of parts which fit them - filters, liquids, brake and chain parts, tires, etc.
Users can quickly choose their bike model (and registered users can save it, too) to see and order all the compatible products in correct quantities. The system also allows very dynamic pricing based on customer segmentation and running discount campaigns.
On the back-office side, an effort was made to automate all tasks that could be automated. With a single click, packages are registered in the courier system, labels are printed and pickup is ordered. Once a package has left the warehouse, the system automatically tracks the package to update the order status and keep the customer up to date using a variety of notifications.
Spark your interest?
We will gladly set up a meeting or a phone call to discuss how to make the internet work for your business.
The easiest way to contact us is by filling out the form below. However, all other means of communications are also listed - just pick the one most convenient for you.
Codelab Solutions OÜ
Reg no: 11742288
VAT ID: EE101327187
Indrek Siitan
tailor-made systems, mobile apps
Kristiina Laaniste
websites, e-commerce